What is the Culture Mastery 4C's Process™?
The Culture Mastery 4C's Process™ is a proven methodology, guiding coaches in exploring with their clients how to succeed in diverse work environments. It provides a framework to take individuals and teams on a journey from identification of cultural preferences through the establishment of real-world solutions. There are four steps of the process which are described below.
The train-the-trainer programmes include both synchronous and asynchronous learning. The master trainer directs potential trainers to supplementary resources and references the extensive library on our Global Business Compass™. Our goal is to train competent instructors to train others on the materials and to recommend delivery best practices.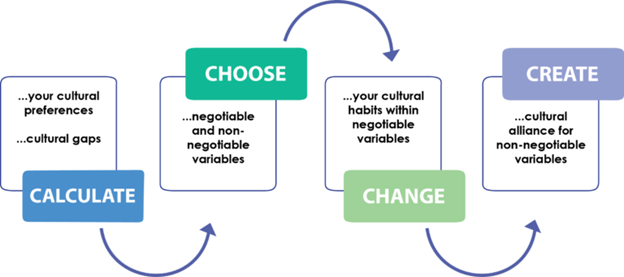 Calculate:
The attitudes and values we hold impact all of our behaviours, from our preferred style of communication to our attitudes on work, time, and relationships. In the Calculate step of the Culture Mastery 4C's Process™, with the ICBI™ you develop a baseline understanding of your own culture, preferences, and values. We then use that baseline to gain insight into your interaction with other cultures.
Choose:
The differences you experience when interacting with another culture can cause stress, frustration, and both internal and external conflict. In the Choose step of the Culture Mastery 4C's Process™, you look at your culture gaps – those circumstances that make you feel different from individuals from different backgrounds – and you explore the values, beliefs, habits, or skills that are at the core of that gap. This empowers you to decipher which are negotiable and which are not.
Change:
When it comes to your negotiable cultural variables, you have the power to make simple adjustments and overcome assumptions that no longer serve your greater goals. In the Change step of the Culture Mastery 4C's Process™, you learn the five steps for changing your attitudes, behaviours, habits, and emotional responses for your negotiable cultural variable.
Create:
When it comes to the cultural variables that are non-negotiable (those that are at the core of who you are and what you value), a different approach is necessary to accommodate the differences. In the Create step of the Culture Mastery 4C's Process™, you learn the value and process of creating a cultural alliance that provides both parties with awareness and knowledge of the cultural differences and an inclusive environment built from that mutual understanding.