One of the problems of presenting our services on a website such as this is that it is difficult to show how flexible our offerings can be and how cultural awareness blended learning options often form a key element of the work we do with our global client base.  Therefore I thought I'd take the opportunity afforded by a blog such as this to outline the process we go through to develop exactly the right training solution to meet each client's needs – knowing as we do that every client is unique and faces a specific set of challenges.
Sometimes we receive an enquiry which merely asks, 'can you do a training programme on India and how much is it?'  I understand the need for speed and that clients are just scanning the market, but this enquiry is not going to help any client get to a results-oriented, cost effective training intervention.  My usual response is to go back with a series of questions such as:
What has prompted the enquiry?
What challenges are you currently facing in India?
Which or your colleagues are interested in this training?
Do they all face the same challenges?
Are they co-located?
Do you have any delivery methodology preferences?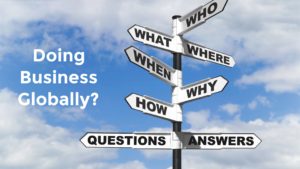 Although these might be annoying questions to the enquirer (and sometimes I don't get any response), I feel the questions are to be asked if we are going to be able to put forward a proposal which meets the client's needs.  If I get the relevant information I can use my twenty-years of experience in delivering cultural awareness training to craft a suitable cultural awareness blended learning solution which I really believe can add value.  That doesn't mean to say we expect to win every pitch, but we really want to be able to put a proposal together which we feel can be helpful, deliverable, results-oriented and cost effective.
I've just used the word 'deliverable' in the previous sentence, and this is the area I'd like to explore more deeply.  What types of training interventions can we offer clients and what formats do we deliver them through?
Key Cultural Awareness Blended Learning Interventions
Simply put we work in three key areas:
General cultural awareness training: These programmes are designed to raise general levels of cultural awareness and fluency but do not focus on one specific country or region. We know that many of our clients have a global remit rather than having a focus on just one country and that the ability to factor in cultural difference to their day-to-day activities is crucial.
Country-specific cultural awareness training: However, many clients do have the need to take a deeper dive into the cultural approach they are likely to encounter in one specific country or a number of countries.  Maybe they work in the subsidiary of a Japanese parent company.  Or perhaps they have a key client in Germany or an extensive supply chain in China.
Global virtual teams training: More and more people are working in global virtual teams and we have been running training programmes on this topic around the world for more than 15-years.  Working across the barriers of culture, language, geography and technology is a challenge and focused training interventions can help global teams work together much more effectively.
These three discreet areas however are often brough together within a single programme for clients who feel they have requirements in all three areas – but then we need to think about the most effective delivery platform for the training.
So, what options do we have to deliver effective cultural awareness blended learning?
Face-to-face cultural awareness training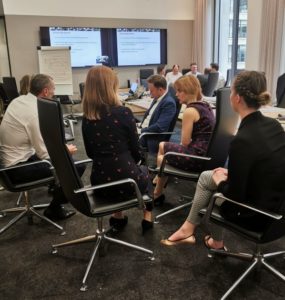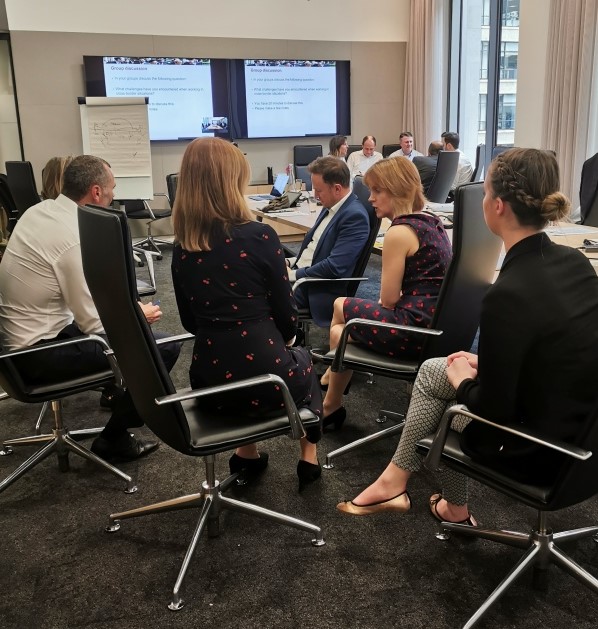 Obviously, the traditional method of delivering face-to-face training programmes is still extremely popular amongst our client base.  There is undoubtedly something magical about getting colleagues into a room to work together with the facilitator in order to raise skills and knowledge levels.  The 'death' of face-to-face training has been prophesised for decades, but it still remains vibrant and will do for many years.
However, there are obvious drawbacks in the face-to-face model.  If not everybody who should attend the training work in the same office, clients either need to exclude them or pay for travel and accommodation.  People are not always available on the day of the training and they therefore 'miss out' as the training is not captured.
Despite the drawbacks though, face-to-face training remains the most effective delivery methodology in my opinion.  No matter what anybody might claim, webinar and digital learning options simply cannot generate the same amount of engagement and learning as the more traditional approach – I know it isn't fashionable to say that but it's true!
Webinar-based cultural awareness training
Many of our clients have extremely dispersed teams who work across multiple global geographies and it simply isn't logistically possible to deliver face-to-face training to everybody.  However, at the same time it is difficult to say to your remote employees that they don't qualify for training because they don't work in Head Office.
In these situations, webinar-based cultural awareness training becomes a very helpful option.  This delivery methodology allows you to reach a much larger group of employees and also enables you to have delegate groups consisting of people with many different cultural backgrounds – always a plus on a cultural awareness training programme.
Webinar-based training can work extremely well – but it can also work really badly.  Webinar-based training programmes cannot simply replicate what is done on face-to-face training courses.  Short, sharp interventions work best.  Break the training into a few punchy modules and deliver them over a short timeframe so the learning is enforced.
 Digital cultural awareness hub – Global Business Passport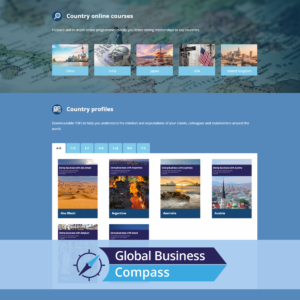 We have developed a comprehensive cultural awareness digital learning hub called Global Business Compass which really enables us to offer a complete blended learning solution for clients.  The hub us full of cultural awareness e-learning modules, relevant videos, country-specific e-learning bites and country culture profiles.
This hub serves two crucial purposes for any organisations which is seriously trying to raise levels of cultural awareness fluency in its employee-base:
It allows clients to offer quality cultural awareness training to the entire employee-base at a very cost-effective price-point. The hub is accessible 24/7 on any internet enable device and so is a truly global solution.
It serves as an ongoing knowledge bank to people who have been through face-to-face or webinar-based training and who either wish to continue the learning process or who need to refresh their memories at a later stage.
Global Business Compass is a living organism that will grow as the months progress with more and more relevant content being added – as your company needs grow, so will our digital solution.
Cultural Awareness Blended Learning
As I said earlier in this blog, we often get enquiries asking, 'can you do a training programme on India and how much is it?'  It's a difficult question to answer because we have a variety of options available to clients.  Some clients might need a blend of face-to-face training, webinars, and our digital hub but other clients might just need one of those options to address their challenge.
We like to work in partnership with clients.  We want to discuss your challenges, get to know your business, and develop solutions which respond to your needs.  Talk to us and we will come up with the right training solution – sometimes a blended solution; sometimes not.
If you are interested to talk more about what we can offer, Contact Us.