World Business Culture Website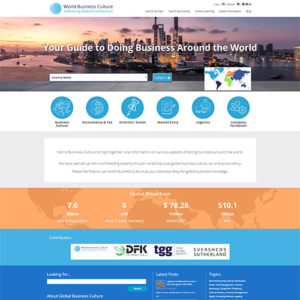 The key to global commercial success is knowledge. If you want to work effectively across countries and continents you need to have access to high quality information and local experts so that you can efficiently navigate today's complex global commercial environment.
Global Business Culture is dedicated to helping our clients succeed in their cross-border activities and have therefore made much of our knowledge and expertise available on our flagship website www.worldbusinessculture.com. On this site you will find in-depth information on the cultural approach to business you are likely to encounter across 39 of the world's leading economies. Each country profile is broken down into series of different sections covering such key areas as meeting styles, decision-making, communication and even contains a handy 'top tips' section.
However, we realise that our clients need more that just cultural knowledge – they also need hard-edged business information. People need information on tax and accountancy issues, market entry strategies, directors' duties and much more. Global Business Culture has, therefore, partnered with a number of key strategic partners who have added up-to-the-minute guidance on a country by country basis on all of these areas – and we are adding content on a daily basis.
---
Our goal is for www.worldbusinessculture.com to become the go-to place for business people who are serious about developing a truly global approach.