The following tactics and strategies are presented as general guideposts for Western executives who are entering or expanding their business and aiming to understand the Business Culture in China. They should be considered as they move along the track to develop their long term and comprehensive strategies throughout the country.
Greetings and Business Cards
Westerners should address their counterparts by their titles and in order of seniority. Say your name clearly. State both your company and your position. Know that Chinese will refer to their company first, then their title, and then their name.
Hand out business cards to the most senior official first. Use both hands to give and to receive. Take a moment to look at and acknowledge the individual's card. Do not stuff it in your wallet or pocket, actively read it and respond to it. Having your own cards translated into Chinese is recommended. Your title is important, as it determines meeting invitations, authority, and seating arrangements.
Human Resources
The best advice is not to depend unduly on a few HQ employees to solve all your China problems. You need to develop strong corporate culture in China operations that reflects parent culture but is modified as necessary to China. Keeping staff is tough – local management needs to focus on this carefully and you need to be constantly monitoring this issue.
Meetings
In general, meetings in China follow the same format as those in the West although with a bit more ritual. The Chinese value punctuality so arrive on time or even slightly early for meetings or other occasions. Check the Chinese calendar and avoid all national holidays, especially Chinese New Year. The October 1 National Day and other smaller holidays also affect businesses.
Know the language capabilities of your hosts beforehand. Have your own interpretation if your hosts have little English/French capability. When you do hire a professional translator/interpreter, spend time with him/her prior to the meeting in order that the individual can be properly briefed on what you are doing and what you require of them.
Have a detailed proposition of the value of your company and product. Have Chinese- language materials to share with your hosts.
Chinese businesses often meet with numerous foreign businesses seeking to establish relationships. You need to capture their attention at the first meeting to secure follow-up.
A formal meeting will start with the senior member of the hosting party introducing himself/herself and colleagues, then stating his/her position on the matter in question. The leading member of your party should then do the same.
I can assure you that ascertaining the hierarchical structure in Chinese organizations in advance of meetings and during discussions or negotiations can be perplexing. This is in many ways plays out as an advantage for the Chinese. Western firms may also find that attempts to circumvent the hierarchy may backfire.
Negotiating
Negotiating in China is an art and skill that needs to be developed as you move along. Having a trusted and experienced interpreter at your side is important but Westerners need to respect certain customs and rituals while at the same time not losing sight of how much they are adapting and conceding.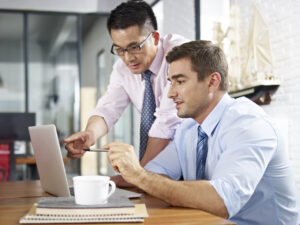 It may be difficult to determine who the decision makers are, and the Western team will also generally be substantially outnumbered. The head of the Western team should have considerable authority to make decisions without (openly) reverting to headquarters. The approach should be to match the Chinese seniority in terms of lead negotiator but do not exceed it.
In many instances, final decisions may be made by people absent from the negotiations. Accordingly, it is wise to always hold back some concession for that "final" squeeze. As a rule, Westerners should not negotiate alone if they can avoid it. It is important to have someone who can take over when the lead negotiator needs a break and someone who can observe the reactions of the Chinese side.
A Westerner's approach should be to never assume and to verify everything. For every concession, even a minor one, he or she should extract a counter concession. Further, there should not be a rush to resolve specific issues problems as they are raised by the Chinese side as it merely increases the pressure for more concessions.
One of the challenges for Westerners in negotiations is to get comfortable with waiting and silence. Research shows that after 13 seconds of silence, Westerners will break the silence and they often do this with a concession.
The Chinese are interested in long-term commitment. Westerners need to consider building long-term goals and objectives into their proposals.
Westerners are best to remain courteous and patient as delays may be intended simply to wear them down. Above all, the Westerner should always be able to "walk away" from the deal.
Partner or Agent Selection
Western firms have many options in terms of a collaborator to help navigate the cultural issues in the China market. Of course, a lot will depend on the company's size, stage of market development and how much is at stake. Hong Kong is a great place to find one, especially if you need to visit factories and check on quality etc.
Larger companies with a strategic plan to China, may be able to hire professional consulting firms (Western or Chinese) to assist in all aspects of the business culture preparation and ongoing interaction. Smaller firms with little experience often hire individuals with both Western and Chinese experience as a key step.
The importance of having an effective "on the ground support player" in China is aptly reflected in the experience of PTCom, a Cambridgeshire, UK based supplier of wireless intellectual property (IP) to semiconductor and handset manufacturers. The company had a presence in China for years, but when they wanted to set up their own operation, some specialist advice was needed.
The company drew on the services of China Business Solutions, headed up by Ting Zang, who had been educated and brought up in both China and the UK and, as well as being extremely well connected. According to Sales and Marketing Director Richard Fry, "Shortly after we opened the offices, we decided it would be a good idea to run training courses on how to relate to the Chinese, both as staff and customers.
"In the end, over fifty of our UK employees went on culture and business practice workshops run by Ting Zhang and they proved extremely valuable".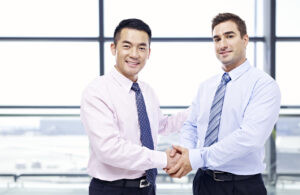 Relationships / Guanxi
Relationships need to be continuously refreshed and developed, maintained, and fed. Foreigners can develop these relationships but need to be particularly diligent about keeping them current. Even McBurger found that this issue can be costly as the lease for one of its main outlets in Beijing was not renewed because the guanxi had not been maintained.
Western firms need to focus on providing some benefit (source of info, perspective on an industry, entertaining venue) the Chinese counterpart cannot obtain from other friends.
In maintaining and developing these relationships, Western firms often need to walk a tight rope. On the one hand, they should focus on providing benefits that the Chinese cannot easily obtain from other "friends". On the other side, Western executives must adhere to their firm's ethical standards. Accepting a generous benefit from a Chinese counterparty may breach ethical standards and create a situation where the Chinese counterparty is expecting a benefit back of comparable value.
Researching the Chinese Cultural Factors
According to James Ng of Canadian College, one can take things into his or her own hands and research available cultural info on the web as a first step. There is a plethora of information on etiquette which can sensitize Westerners to the scenarios that they are likely to face.
With more and more info readily available, Westerners can also avail themselves of a starter base of key phrases in Mandarin or Cantonese which can be well worth the investment. In addition to web-based info, Westerners should draw on government and private sector trade facilitation groups (e.g., Canada China Business Council) to obtain references to Chinese business culture experts.
As noted earlier, Westerners should always keep in mind that there is a considerable degree of cultural diversity within China and that a lot will depend on the exposure and experiences of their counterpart.
Saving Face
Always seek out and acknowledge opportunities to give "face" to your Chinese colleagues and partners. Do this by ensuring that they feel respected and appreciated, particularly in public.
Westerners should always be polite and courteous regardless of the situation. They will want to speak softly and avoid raising their voices which is a sign of disrespect in China.
It is also advisable for Westerners to subtly downplay any superiority or status that they may have and allow their Chinese counterparts to feel important. For example, if your Chinese counterparty compliments you on your Chinese, respond by indicating that it is far from being as good as their English.
It is also wise for Westerners to avoid declining an offer from a Chinese person in front of others. They should find a way to discuss the offer in a more private setting to avoid your counterparty losing face.
Strategies
International companies fail when they assume their strategies, processes and tactics can be imposed in China. They eventually realize that their business operating procedures cannot instantly overwrite 4000 years of history. This does not mean that Westerners should drop their standards and policies, rather they should learn how they need to be modified.
---